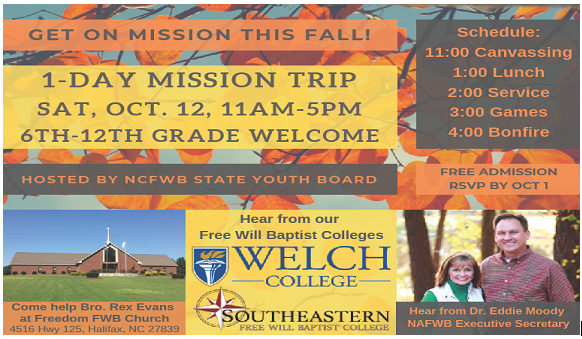 We are super excited to announce that the NCFWB Youth Board has decided to do a One-Day Mission Trip to our church on Saturday, October 12. Various youth groups from across North Carolina will be coming to Freedom Free Will Baptist Church in Roanoke Rapids, NC. to do some city wide evangelism. Both Welch College and Southeastern Free Will Baptist College will be represented. Here is a schedule for that day:
11:00 a.m. Canvassing
1:00 p.m. Lunch
2:00 p.m. Service with guest speak Dr. Eddie Moody, NAFWB Executive Secretary.
3:00 p.m. Games
4:00 p.m. Bonfire
Free Admission
R.S.V.P by Oct. 1 at https://forms.gle/7zqzVH9JSN1h8YCh8.
For more information, please contact Bro. Jake Manning at jake@unityfwb.org
Community wide prayer meeting every Tuesday @ 10 am. Everyone is invited